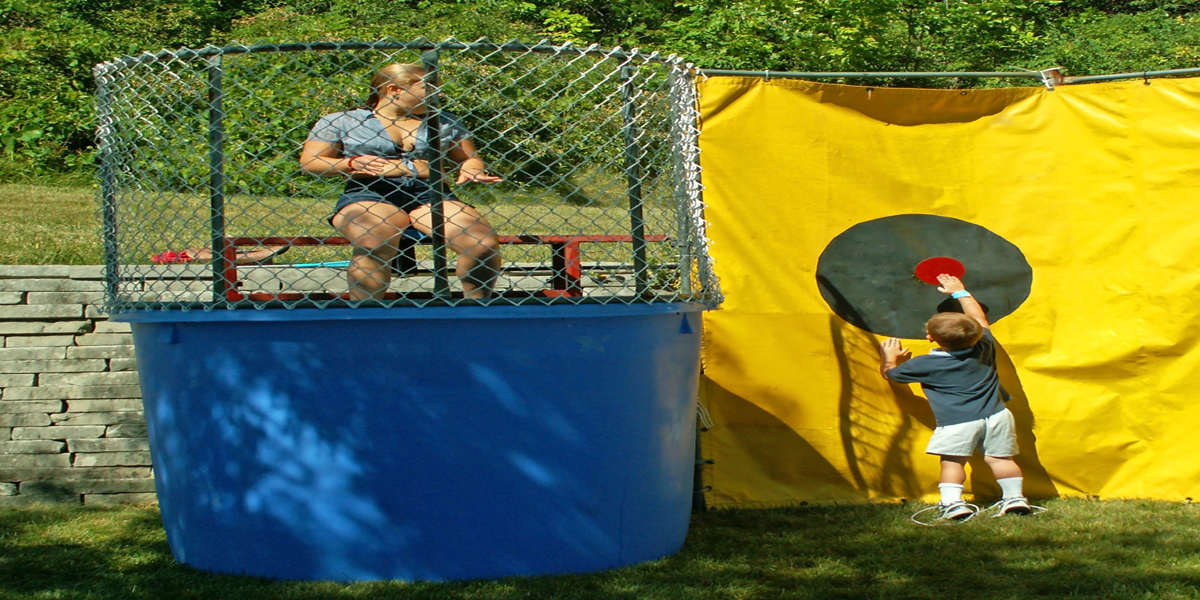 Dunk Tank Rental
The Dunk tank is the latest craze for everyone to have lots of fun at carnivals.  From **$400 onwards, on a hot and sunny day, the dunk tank provides lots of cooling relief to your water-based event. All your guests will be rushing to have a go as the "victim". If he answers the quiz correctly, he gets rewarded with a root-beer float. When he gets it wrong, he will be DUNKED and find himself floating in the dunk tank the very next second.
In our dunk tank rental business, we have many sizes of dunk tanks to suit your needs.  From the smallest one that hold 1 x 6 year old to a mid-sized one that holds 4 adults. When 4 adults falls into the pool and scream at the same time, your carnival is guaranteed never to have a boring and quiet moment.
With no one more experienced than us in the dunk tank rental business, we can advise you which type of dunk tank suits your event and budget best.
Let us work with you closely to come up with a proposal that will suit your needs and budget best.
Please call us at [ci show="phone"] to discuss further or drop us an email in the form below.
Frequently Asked Questions
Question –Do I need to book the dunk tank in advance?

We have dunk tanks for rental but depending on the season, many gets snapped up and reserved pretty fast, especially towards end of the year during the festivities.  Generally, if you can book at least 3 months in advance, we can even give you an early bird discount!

**Question – How much does it cost?

From $400 onwards, T&C's applies

Terms & Conditions:

Excluding Transportation & Setup costs as follow

– $150 for Weekdays

– $200 for Weekends / Public Holidays

Subject to availability

Prices may vary during holidays & peak periods

Question – Does your company provide dunk tank rental outside Singapore

Due to the high costs of insurance, freight and customs clearance, it is currently not economically viable to provide dunk tank rental outside Singapore.

Question – Besides providing the dunk tank rental, is your company able to provide manpower to setup the dunk tank?

We offer a self-collect option which you can collect, setup and return yourself to save costs.  We also offer a turn-key solution whereby we will deliver the items on the day itself 2 hours before your event, then set up for you and at the end of your event we will pick them up send them back to our store.

Question – What if a dunk tank gets breaks down during the event?

We offer 24hour technician standby as an add-on service. In most cases, our dunk tanks do not break down.

Question – Am I able to book the dunk tank first before I secure the venue?

Yes you can! Even if you cannot secure your dream venue, we can always deliver the dunk tank to your 2nd choice venue.

Question – Is there a minimum number of days we need to rent the dunk tank?

The minimum dunk tank rental is 1 day.

Question – Do have any price list or guidelines for us to look at?

The costs vary, depending on the number, size and type of dunk tank and the duration.